October 18, 2018
Φ-lab GitHub
Phi-Lab is on GitHub!
You can now access, host and review code – and join us on moving ideas forward. Phi-Lab is on GitHub to enable access and collaboration on working through Earth Observation-related challenge together. To access ESA-PhiLab GitHub just click the image below!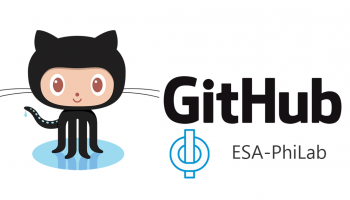 Curious about what is GitHub?
GitHub enables developers to create something (an app for example), making constant changes to the code and release new versions of it before its final version. 'Git '- a version control system, allows to store these modifications in a central repository easing collaboration between developers as they can get the new version of the app, make changes to it and upload the its new version. Anyone can access these new changes, download them, change them and upload them again.
The 'Hub' is where all takes place, where people can store their projects and network with other developers. Find more about GitHub here.